Our Science-Based Approach
The Blue Water Task Force is Surfrider's volunteer water quality monitoring program that provides critical water quality information to protect public health at the beach. Surfrider chapters use this program to raise awareness of local pollution problems and to bring together communities to implement solutions.
Blue Water Task Force (BWTF) labs measure fecal indicator bacteria levels in recreational waters and compare them to water quality standards set to protect public health. Chapter-run BWTF programs fill in the gaps and extend the coverage of agency-run beach monitoring programs by sampling ocean and bay beaches, estuaries and potential freshwater sources of pollution such as stormwater outlets, rivers and creeks that discharge onto the beach.
View Your Florida Keys Local Water Quality
Partnering with the Local Community
We are excited to house our BWTF Lab at Ocean Studies Charter School in Key Largo and integrate the Lab into the student's STEM education. Ocean Studies students and marine science faculty will join our Surfrider Chapter in water quality testing in the Upper Keys.
Pictured left to right: Emily (Our BWTF Coordinator), Martha (Marine Science Lead at OSCS), Whitney (Our Board Chair), and Katie (Our Board Secretary).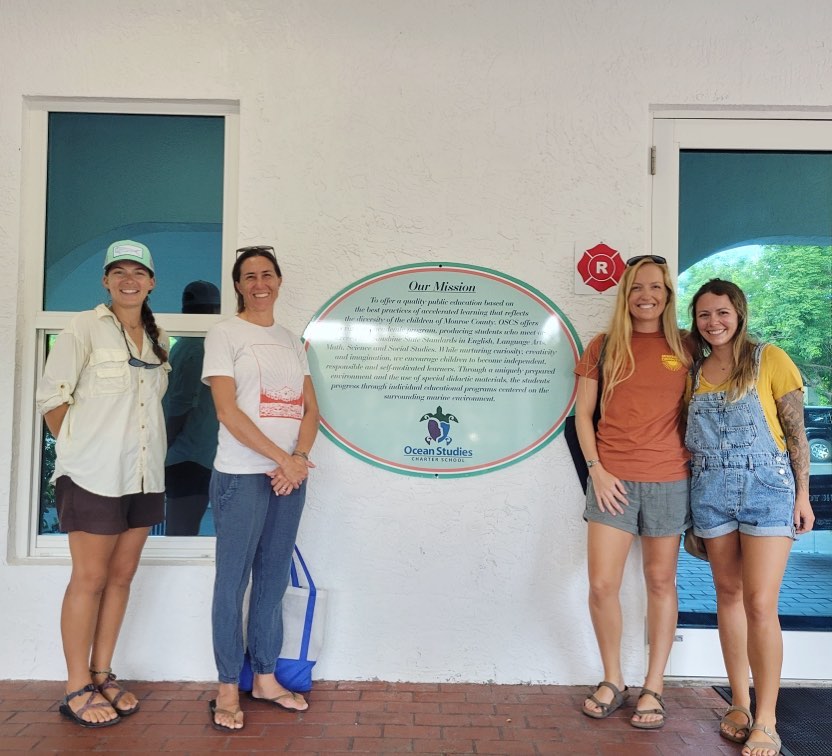 The Florida Keys Chapter partners with Ocean Studies Charter School to operate the BWTF program. Currently, our Surfrider Chapter samples and processes the Islamorada sites with the OSCS students testing at Rowell's Park during their marine science field trips.
Our BWTF data augments the beach monitoring program conducted by Florida Department of Health in Monroe County and helps build community awareness of local pollution issues.
If you are interested in becoming a BWTF volunteer, please contact bwtf1@floridakeys.surfrider.org
Everyone deserves access to clean water to surf, swim and play in.
Meet the Blue Water Task Force